ELECTROCOATING PROCESS
This is the most technologically advanced method for protecting metals by applying a coating.
Thanks to the voltage difference at the anode (the end), the negatively charged lacquer particles, will be deposited ONLY on areas where the metal is in contact with the lacquer fully covering any scratches on the inside or outside of the end, on the curled cut edge, the score line, the smile beads, rivet area and tab cut edge.
Electrophoresis steps:
DIPPING The ends are dipped into a bath containing a coating solution that deposits immediately on exposed metal such as cut edges, scratches and other blemishes and forms a moist film.
The electrophoretic bath is prepared by diluting lacquer in deionised water.
Because it is a dipping process, complex-shaped objects can be uniformly coated.
WASHING After the bath, the ends still have solution droplets adhering to them and so they are cleaned up with blasts of air and water, that which do not damage the coated parts.
DRYING As there is a very low quantity of solvent, drying is problem-free; the ends will be perfectly coated with no blemishes left by the productive process.
Main advantages of electrocoater:
– all exposed parts treated in just one pass
– highly uniform, thin lacquer coating impossible to damage during seaming operation
– ends will not get stuck together
– highly flexible machine with economic size/format changeover
– speed up to 500 cpm per lane
– very low lacquer consumption and no overspray problem (the lacquer deposits only on uncovered parts
– environmentally-friendly technology (solution contains just 1 to 2 % lacquer; the rest is water)
– elimination of costs for special insurance or special storerooms for inflammable materials as the lacquer is water-based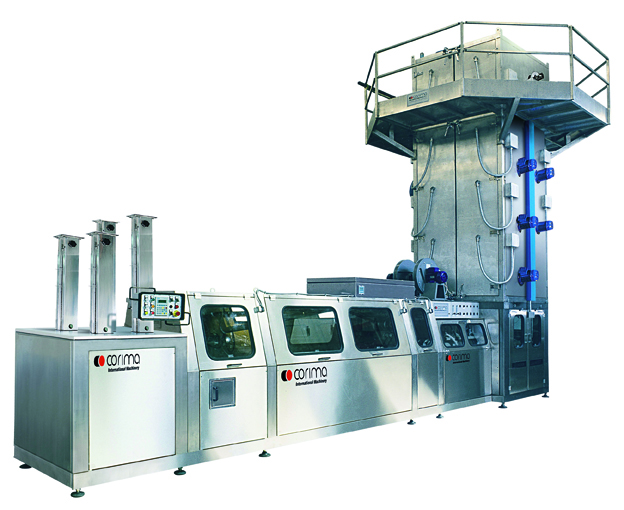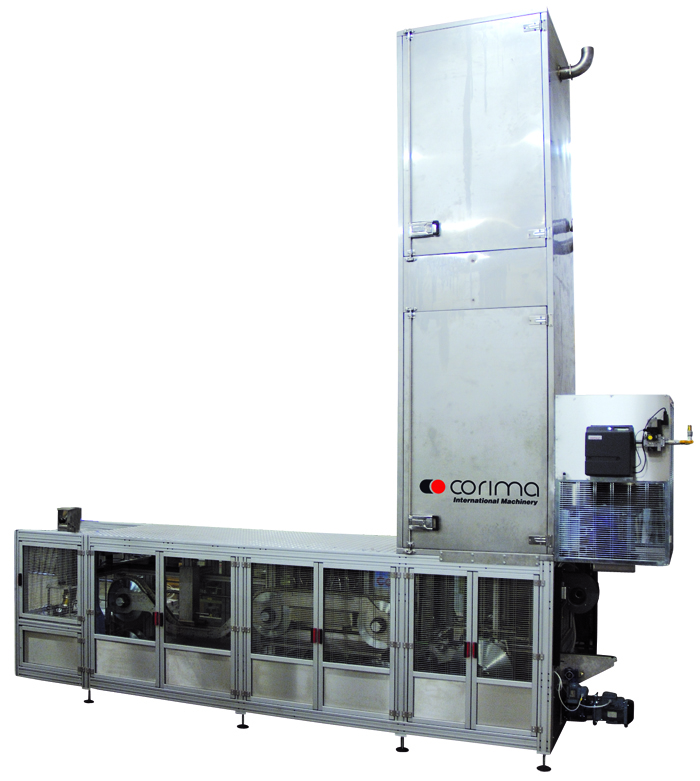 Design
Il nuovo design delle nostre macchine soddisfa e supera quello delle altre macchine in commercio.
Abbiamo inoltre raggiunto prestazioni aumentando il tempo di immersione, controllando il processo coperchio per coperchio, riducendo la formazione di schiuma nel bagno e il consumo di vernice cosi come i tempi per la pulizia e manutenzione della macchina.
L'accessibilità pressoché totale di ogni parte della macchina la rende estremamente fruibile per l'operatore.
L'electrocoater è costituito dalle seguenti sezioni:
Alimentazione Si tratta degli sfogliatori (uno per linea) con i relativi dispositivi di movimentazione. Gli sfogliatori sono attrezzati con separatori magnetici che provvedono a ricevere i coperchi direttamente dalla pressa di conversione.
Bagno elettroforetico Qui i coperchi vengono immerse nella soluzione di vernice ed avviene la copertura totale di ogni graffito applicando un contatto elettrico con il coperchio.
Risciacquo e Soffiatura Questa sezione comprende batterie di spruzzatori d'aria e acqua per la pulizia dei coperchi prima dell'essiccazione del forno.
Forno di essiccazione I coperchi vengono trasportati attraverso le diverse sezioni del forno (pre-riscaldamento – essiccazione – raffreddamento) da catene attrezzate con tasche realizzate con speciali materiali plastici resistenti ad alte temperature. I tempi d'essiccazione sono predisposti per raggiungere la polimerizzazione ottimale della vernice.
All'uscita del forno, i coperchi sono catturati da una cinghia magnetica che provvede a trasportarli all'uscita della macchina.
The Machines
Discover the innovation and reliability of our machines.
"Un gruppo di consociate con esperienza acquisita e know-how.
Affidabilità e precisione"