AUTOMATIC PLASTIC UNWRAPPER MACHINE
MODEL PLP-DB/07
Description:
This machine is used to automatically feed one or more seamers with unwrapped sticks of ends that were previously shrink-wrapped with plastic film.
The machine takes the sticks of ends from the hopper. An air-knife cuts the film longitudinally and it is then ejected into a collecting bag. After that, the expulsion device exerts a constant pressure to push the ends to the seamer.
This system increases production capacity and provides for a perfect cut of the film on both sides of the stick, avoiding any damage to the product and allowing a constant outflow of the ends.
The standard hopper assures 30 minutes' autonomy of continuous production (of ø 73mm standard sanitary ends at 600 e.p.m.).
With the addition of a quick-changeover kit the machine can be adapted to precess sleeves wrapped in paper bags.
Corima International Machinery can supply a wide range of conveyors connecting the outlet of the unwrapper to the seamer to meet the customer's specific requirements.
Optionals:
– Double hopper providing autonomy of 1 hour;
– Ergonomic hopper to make loading easier for the operator.
Technical data (standard):
END TYPE standard sanitary ends, easy open ends, aerosol bottoms and
domes, general line components
END DIMENSION ø 52 mm (200) to 153 mm (603)
STICK LENGTH from 250 mm to 800 mm
OUTPUT up to 5 rolls/minute
ELECTRICAL REQUIREMENTS 10 Kw, 380 V, 50 Hz, 3-phase + neutral wire
AIR CONSUMPTION 300 l/minute at 6 Bar
Upon request the machine can be customized according to customer specifications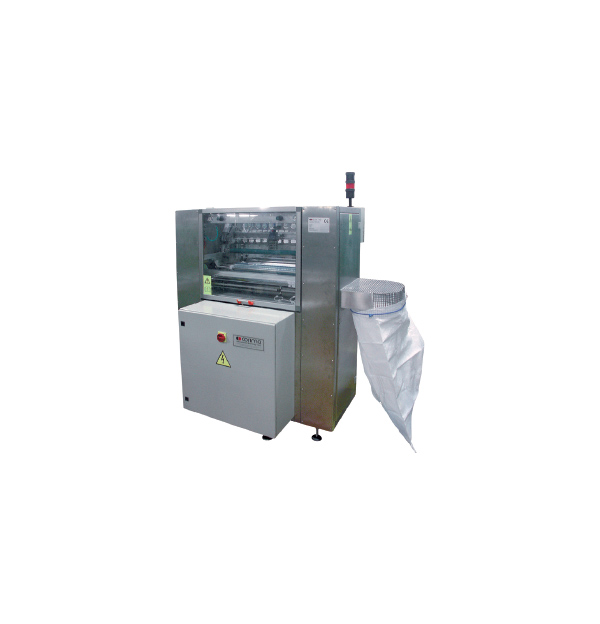 "A network of companies with acquired experience and know-how"