This machine has been developed to automatically shrink wrap steel ends.
The ends coming from the production lines are counted (accuracy ± 1 end per sleeve), separated into a stack and then picked up by a gripper. The gripper moves on a system of x-y axes and transports the stick to the wrapping station, where it is wrapped using micro-perforated plastic film, heat-sealed longitudinally and then heat shrunk by hot air blowers during transport through a step roller conveyor to the outfeed of the machine.
The machine can be tooled with one to 5 lanes and will conform to the required safety and accident prevention requirements.
Optional:
– Manual packing station with pre-made paper bags;
– Quality inspection station.
Technical data (standard):
END TYPE standard sanitary ends, easy open ends, aerosol bottoms and
domes, general line components
END DIMENSION ø 52 mm (200) to 153 mm (603)
STICK LENGTH from 250 mm to 800 mm
INFEED LANES from one to five
OUTPUT up to 7 rolls/minute
ELECTRICAL REQUIREMENTS 10 Kw, 380 V, 50 Hz, 3-phase + neutral wire
AIR CONSUMPTION 400-600 l/minute at 6 Bar (average)
Upon request the machine can be customized according to customer specifications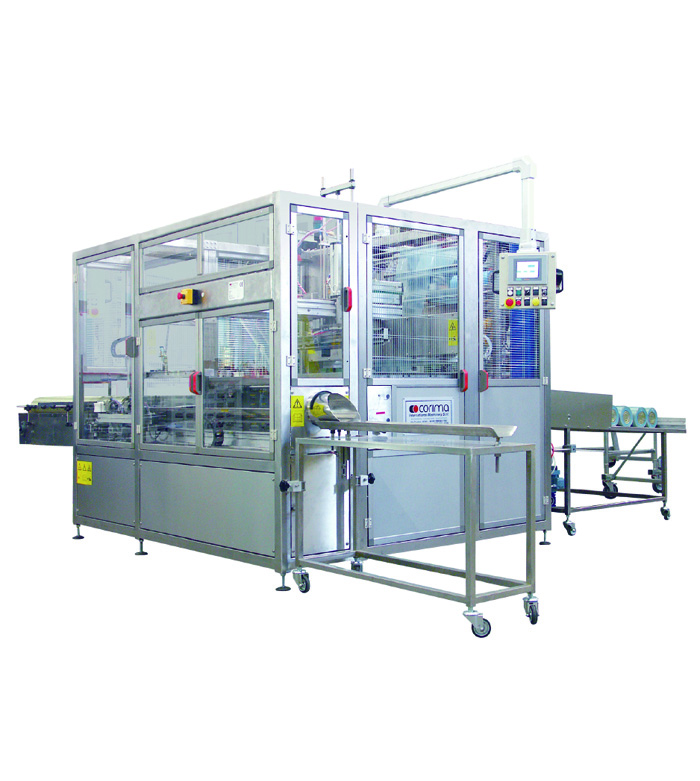 "A network of companies with acquired experience and know-how"