The new design of our machines meets and beats all other types of machines offered on the market. We also achieved better performances giving more immersion time, checking the process end by end, reducing bath foaming and solution waste, reducing cleaning and maintenance downtimes.
The total accessibility of any parts makes this machine "user-friendly" for the operator.
Electrocoater consists of the following sections:
INFEED SECTION It consists of infeed downstackers (one per lane) with their driving devices. The downstackers are equipped with magnetic end separators that receive the ends coming from the conversion press.
ELECTROCOATING BATH SECTION Here the ends are dipped into the lacquer solution where full coverage of any scratch in just one transit is achieved by applying a contact to the end.
RINSING/BLOWING SECTION This section includes batteries of fans and air knives set to clean the ends before the lacquer is dried in the oven
CURING OVEN The ends are carried through the different oven zones (pre-heating – curing – cooling) by means of chains equipped with special plastic pockets suitable for high temperature work. Curing times are preset to achieve perfect lacquer polymerisation.
At the exit of the oven, the ends are taken by a magnetic belt conveyor that provide to carry them to the outfeed of the machine.
Technical data:
END TYPE round or shaped easy open ends
END DIMENSION ø 52mm (200) to 153mm (603)
INFEED LANES 1 to 4
OUTPUT up to 500 e.p.m. per lane
NATURAL GAS CONSUMPTION 36 m2/h at 20 millibar(average for 2-lane machine)
WATER INFEED 300 l/h (blow-off) + 40 to 60 lt/h (bath)
(average for 2-lane machine)
WATER DISCHARGE 20 to 40 l/h (average for 2-lane machine)
AIR CONSUMPTION 600 nm2/h at 6 bar (average for 2-lane machine)
ELECTRICAL REQUIREMENTS 20 Kw, 380 V, 50 Hz, 3-phase + ground
Upon request the machine can be customized according to customer specifications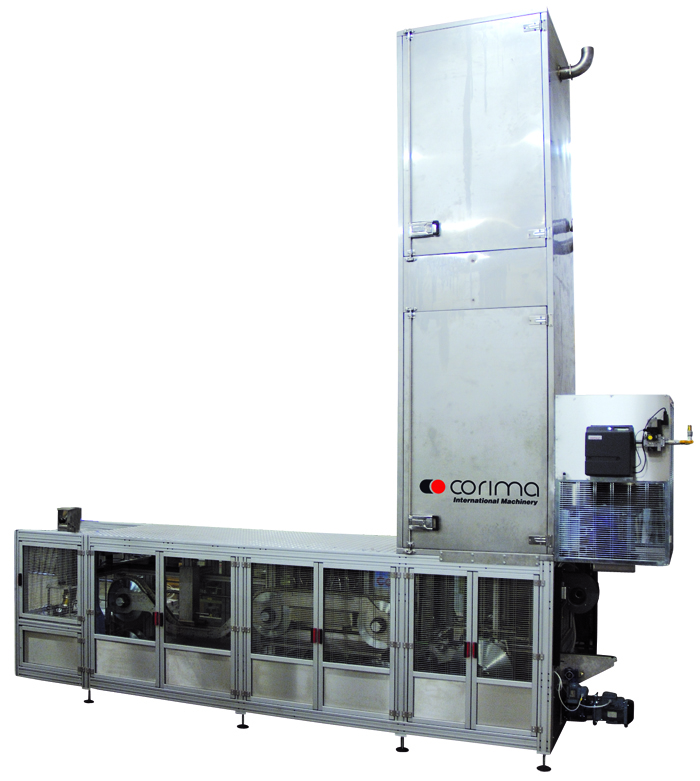 "A network of companies with acquired experience and know-how"